This section is under development. Over time I will also gradually transfer the information from our old GNSS SDR homepage to this homepage.
We and our readers over time have found some mistakes in the book and the Matlab code which we have collected in a separate webpage with fixes.
More information about this book can be found at the publisher page.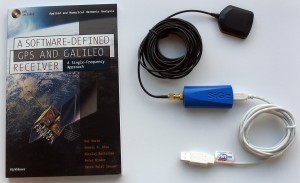 The diagram below shows the hardware-software partitioning in a GNSS SDR. The software (Matlab code) comes on a DVD that is included with the book. The GNSS USB RF front-end can be bought separately. For more details please visit the page about GNSS RF front-ends. As alternative the DVD contains a few records of live GPS and Galileo signals. Galileo signals were in test mode when the record was made.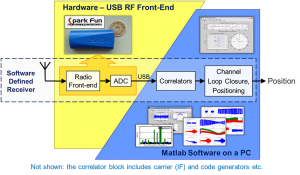 There exists also a Chinese version of this book (ISBN: 978-7-118-06014-0).