Today the well-known GPS is just one of a few satellite based positioning systems. The American GPS (original name – Navstar) and the Russian GLONASS were the first systems of this kind. There were some satellite based systems before these, but they are obsolete and are not used today.
Without a doubt the GPS became the most widely known and used satellite based positioning system. Before about 2012 GLONASS in western countries was used almost exclusively in some of the surveying class GPS receivers. Now more and more consumer class GPS receivers also support GLONASS.
Today EU and China are building their own global satellite based positioning systems. A few countries are also building their own local (regional) systems of various kinds and capabilities.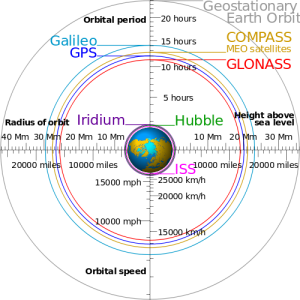 All these global satellites based positioning systems today have one common name to refer to all of them – Global Satellite Positioning Systems (GNSS). All of them use satellites in medium Earth orbits (MEO). Here is the list of these systems
The GPS upgrade project (GPS Block III) is in progress which will upgrade the whole system – both satellites and ground control stations. The GLONASS system is renewed with new satellite designs, signals and capabilities. In general all GNSS systems are heading towards designs that increase signal robustness using today's signal coding techniques, designs that increase carrier and signals per carrier diversity for civil and non-civil users. Some of these changes will require GNSS receiver replacement or upgrades.
And here is a list of regional systems which provide positioning, navigations and other services only in a certain region. Most often these systems use satellites in geostationary orbit or geosynchronous orbit
QZSS (Japan) – by itself it has limited positioning capabilities. It is designed to augment GPS services
Beidou-1 (China)
IRNSS (India)
GNSS Augmentations
The original GPS design was made to fulfill positioning and timing (time transfer) needs of 1980s. Today the requirements and expectations have changed and the original GPS alone cannot fulfill these requirements. Therefore extra systems and extra services were developed that augment positioning capabilities and qualities of the original GPS system. There are both ground based systems and satellite based systems. Some of the most commonly used today systems are in the group of Satellite Based Augmentation Systems (SBAS).
SBAS was designed to solve some of the airplane navigation problems. It enables use of GPS for airplane navigation in various stages of flight by assuring minimum levels of safety, availability, integrity, reliability, and precision. The aviation applications require very high level of system reliability therefore only certified SBAS systems and receivers can be used in aviation.
Today a more common term safety of life applications is used to describe GNSS applications for transportation, emergency response or other where human life may be at risk in case of GNSS system or receiver malfunction.
Here is the list of existing or developed SBAS systems. Most of the systems use geosynchronous communication satellites to provide SBAS services
Other Augmentations
There are also a few other satellite based (for example OmniSTAR, StarFire) and ground based (DGPS, LAAS) commercial and government systems dedicated for agriculture or other special positioning and navigation applications.
Mobile communication networks provide A-GNSS (A-GPS) services which enable to significantly reduce the time to first fix (TTFF) in mobile devices.
A Galileo In Orbit Validation (IOV) satellite is shown in the picture at the top of this page. The picture copy rights belong to ESA.